The Community Death Care Project's blog is an archive of our activities. We will:
share information that has been created for and in our workshops,
share experiences and images from the sessions and events,
publish recorded online workshop sessions and transcripts (written text) so you can view them on your own time,
show community artwork and creations that are submitted with permission to the project.
If you want to share something on the CDCP blog that you have made or written that is related to death work and your lived experience, please contact access@communityDeathCareProject.ca.
This is Assisting Living: Author reading by Dr. Stefanie Green & Q+A
Memory Is a Living Being: A Eulogy Writing Workshop with Hari Alluri
I acknowledge that if you've come to this workshop, you've come to do what may be difficult work.
I acknowledge and welcome you to acknowledge that grief is one of the strongest feelings we can experience.
I welcome you to acknowledge that loss, no matter how deeply personal, is one of the experiences that connects all beings.
I acknowledge that it is difficult to be compassionate toward each other when we aren't compassionate towards ourselves, so I welcome us to be in our highest compassion towards ourselves today, so we can be in our highest compassion towards each other.
In doing so, I acknowledge that feelings of guilt and shame and fear often arrive side by side with loss:
I welcome us to acknowledge these feelings AND also to ask these feelings to give us space to do the work we have come here to do today:
I ask us to welcome the emotional beings of Love and Memory and Curiosity and Wonder to be our primary guides as we do our work today.
I welcome us to acknowledge that each of us, and each of those we love, is a full and complete being, that we are complex wholes and that part of the urge inside this workshop is work with the wholeness of us and those we love.
At the same time, no single workshop can carry the fullness of a life: a eulogy is always partial even as it welcomes wholeness: let's be compassionate if what we write feels incomplete, knowing that we are working with our intentions, and intending this work to be as complete as it can be within the time we have to share.
I give thanks to each and all of you for being here, in mind and body and emotions and spirit.
Collective Poem 1: gathered by Hari Alluri's workshop group with language from the readings
with language from: Faiz Ahmed Faiz, Etheridge Knight, Paul Celan, Alberto Ríos, Jónína Kirton, Joy Harjo
Elegy
to anyone listening in the dark, let me hear you
your death ash[es] in my mouth
They did not disappear
we are the secret citizens of the city
And we travel unmapped roads.
your soul may play you
in the unbound
to be dismantled tomorrow
dope death dead dying and jiving
bright bone white crystal sand glistens
the world is bare [without you]
the grey of your absence, the color of poison, of thorns,
the yellow of autumn, the red of flowers, of flames,
the gold, the season ablaze,
when we meet again, this is your homecoming
Original: live gathering of language in relationship to the questions:
with language from Jana Lynne Umipig, Jónína Kirton, lucille clifton, Joy Harjo, Alberto Ríos, Cemal Süreya, Chris Abani, Nikki Giovanni, Faiz Ahmed Faiz, César Vallejo, Etheridge Knight, Willie Perdomo, Rita Dove, suheir hammad, Yannis Ritsos, Paul Celan, Adam Zagajewski, Hari Alluri
what is to share:
go home I am waiting for you there
comforting silence around
what inspires us
you sing to him softly in a language only the 2 of you speak
my own blank space sitting exactly like me
all enough you will want
what is real?
pumped blood
sharp sounds by the door drowning in whisper
grit on my teeth
some of us are born with nerve endings longer than our bodies
the sea and trees and the sky and birds and fuck
what is death?
our age ends
the future in sunlight
"when somebody psses away, depending on the connection, you're left with a space that's no longer filled
with that person"
the future never happens
a man, god, a language
my own blank space
we are transforming into a greater, truer self
what is transformation?
the sky was the dead end of sight
the road was just a road, wine merely wine
as if some ceremony keeps tugging at my [your] coat
you will want to be brave
death always has a shape to introduce
what is invitation?
the air conditioner is connected
Don't leave now that you are here, the sky
the rest is prayer and even more prayer
chorus for the coming of
babies taking a handful of sand or dirt into their mouth
the mating call of motorcycles
Come on shake a leg,
what is control / autonomy / its opposite?
you will cry water into flames
vulture your own heart to feed
down them, my heart is walking on foot
their attempts to wash away do not work
even thirst is a gift
sit beside a tree and sip tea
what is care?
my best friend scolded me the way you hug me now
come here she said I'll teach you a poem
if we're lucky larger than real life inside this poem
must learn to bear the pleasures as we have borne the pains
All poets understand the final uselessness of words
We are chords other chords to other chords, if we're lucky to melody
Nikki Reimer's GRIEFWAVE
A conversation with Emily Bootle of
Koru: Cremation, Burial, Ceremony
Wills and Estates in Cantonese
Vancouver Area Network of Drug Users (VANDU) remember those they have lost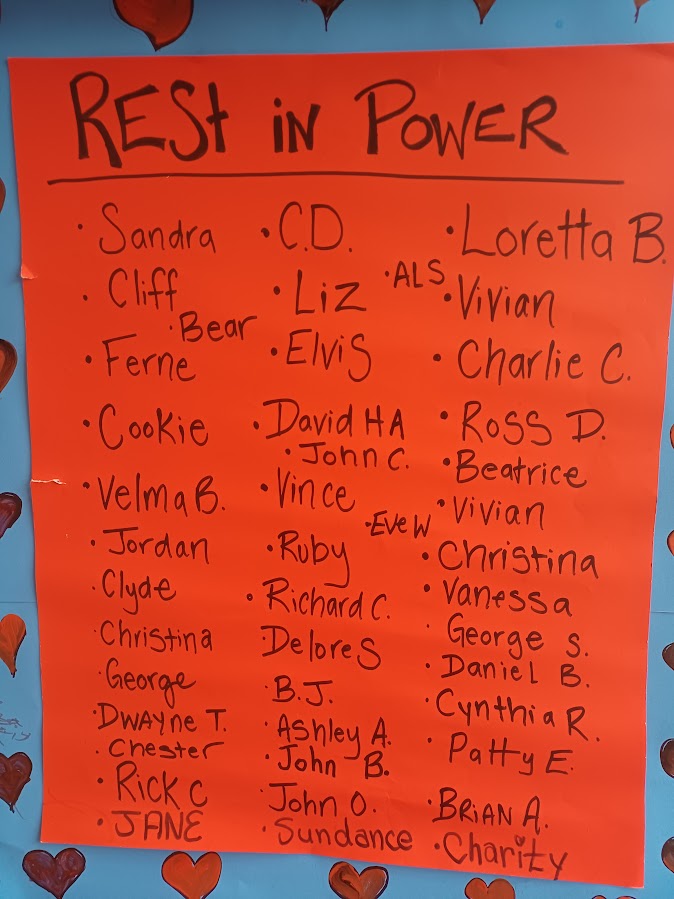 Walking tour of the Mountain View Cemetery